OK, so it seems like there are quite a few giveaways I am coming across.....so I thought I'd list a few and ask if you know of any.....
please
post in my comment section to share the giveaway love!
I will admit that I actually am hesitant to share this first giveaway.......as it will cut into my chances of winning even more.....but I just have to let you know about
Big Mama's latest giveaway
if you haven't already heard about it. I am not a huge monogram person.....no particular reason why.....it just doesn't "do" much for me for the most part. But these personalized plaques (I almost typed plague) are just awesome and I think I seriously
need
to win this giveaway. So on second thought.....just visit
Engraved Uniques
and buy your own and leave the winning for me. :)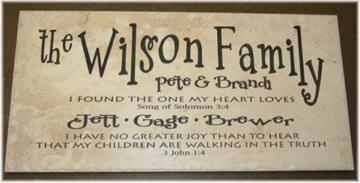 Another giveaway I stumbled upon this morning......was from
His Heart's
blog.....it a brand new copy of a book that she recommends as a great instrument of faith and hope in Jesus Christ. And to be completely honest......I am in a little valley right now and this looks like something I could really use.
I do pop over to
A Giveaway a Day
blog where Liz has fantastic giveaways every day!!! :)
And lastly.....there is a
great
giveaway going on for a wicked Canon camera and other awesome stuff.....but the best part is that your donation/raffle ticket is raising money to bring a sweet little girl home from Korea.....Visit
A Sister for the Bean
for more details. :)
OK, signing off for now.......Happy Friday!
xox
*~Michelle~*