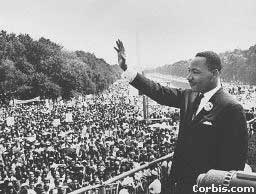 Almighty God, by the hand of Moses your servant you led your people out of slavery, and made them free at last: Grant that your Church, following the example of your prophet Martin Luther King, may resist oppression in the name of your love, and may secure for all your children the blessed liberty of the Gospel of Jesus Christ; who lives and reigns with you and the Holy Spirit, one God, now and for ever. Amen.


I found that prayer on GodWeb.org, along with a powerful letter from MLK Jr's wife, Corretta Scott King.


"I just want to do God's will. And he's allowed me to go to the mountain. And I've looked over, and I've seen the promised land! I may not get there with you, but I want you to know tonight that we as a people will get to the promised land."
This taken from his
I've Been to the Mountaintop
speech, King boldly likened himself to Moses and foretold his own death prior to blacks'/Hebrews' entry into the Promised Land. wow....so amazing and powerful.
Today we are going to read a couple of books about MLK Jr........if you have younger kids, you might want to check them out. Martin's Big Words is an awesome biography and has gorgeous illustrations. We also have The Crayon Box that Talked which deals with getting along with others, despite difference (teaching tolerance).


Other things that we have planned for the day that are not MLK related.......We are going to go to G's basketball game, bringing E and N sledding for a bit (if their snowsuits have thawed from yesterday) and tackling the laundry pile that resembles Mt. Everest. With Josh having the day off, I also am going to treat myself to a little retail therapy. I will be taking a shower, putting on deodorant/lotion and wearing pants that don't have a drawstring. Yes, I will be going to Pier One, ALONE, with the gift card I got for Christmas. It doesn't matter if I score some of the wicked clearance items they have advertised, although I am sure I will......I am just in dire need of 45 minutes to an hour of mindless browsing. I need to escape into the world of shopping for items other than industrial size shampoo or value packs of generic cereal. I need to smell yummy candles and touch lush fabrics. I will fantasize about having one of those nice lamps on a "real" nightstand in my bedroom rather than the guitar amp that has an alarm clock and a pinch pot for guitar picks. (you know those clay pots that every child makes)

Ahhhhhhhhh, delusions of grandeur......

Oh OK, back to MLK....

If you ever get a chance to go to Atlanta.....you have to go to MLK's memorial.
We went in May 06 and also got to see where he lived and preached. So of course we felt the need to snap a pic of us in front of his house, like we were just dropping by for a visit. If you click on that photo, you'll get a close up view of the enthusiasm on my sons' faces.



OK, I gotta jet..... as G needs to be brought to the game.......and my other kids need to be pointed in the direction of getting dressed and ready. I hope you enjoy the day today.



I will leave with this other MLK quote that I found and I really love:

To be a Christian without prayer is no more possible than to be alive without breathing.

~MLK Jr.





Happy MLK day~!
*~Michelle~*