(originally posted Feb '09)
.....makes for a GREAT day (life).
OK, so let's face it......when you are wearing jeans that fit right, make your waist look small and your "butt" look perky.....nothing can bring you down.
I, like most mothers.....always put my children first, especially when it comes to clothes. For example.....H has to have certain jeans from Pac-Sun that fit his super skinny rocker frame. G needs those basketball sneakers whose price tag is comparable to our mortgage payment. You get my drift.
So when it comes to me....factoring in that my wallet is in the red after taking care of said children's wardrobes and the mother's guilt that comes with spending any money on myself....I usually hit the second hand stores or defective styles at TJMaxx these past few years.
I consider myself pretty current or "hip" as far as I can see when I compare myself to today's youth. I cannot compare myself to many fashion magazines as they either feature corporate America business/conservative styles.....where I have never worked a 9-5 job in my life.....or high fashion Hollywood garb that I cannot even afford the socks they have on.
So, I like to just shop at stores that have a more youthful appeal to them and see what works for me. I know my limits and will not try to pull off the super tight tees baring my mid-drift.....as that would bare what is referred to as the onset of a muffin top, not to mention......how comfortable is that? I prefer looser, more comfortable tops such as a nice broken in tie dye tee or a peasant style hippie shirt.
But let's get to jeans. My current wardrobe has jeans are acceptable.....they fit fine, they are just....well jeans. They are not mom jeans with stretchy waistbands fitting under my ribcage. They do not have 50% spandex in them where they look like denim Saran Wrap. They are simply normal ho hum jeans, slightly low rise (I feel suffocated with anything up high) with a little flare at the bottom. They don't make me look great......they don't make me look bad....they just are there, I guess. I never looked in the mirror and felt WOW....I feel great! I just give one last glance, make sure I don't have anything stuck in my teeth and go on my way.
Well this weekend.....after re-evaluating the important things in life......and listening to the words of wisdom from
Big Mama
and other fashion connoisseurs of the world.....I put my priorities in order and changed my fate.
I went out and splurged on not one.....but
two
....new pairs of jeans at
The Gap
.
At first I felt sheepish and awkward walking into the jeans department. After all....I was accustomed to flipping through a rack of miscellaneous jeans grouped by size with not many options. I was overwhelmed by all the choices......what style do I want/need? Long and lean? Comfy and curvy? Stylish and sleek? Bootcut or straight? ACK! Apparently these are options I have failed to address in my previous jean purchases.
So I sucked it up and actually went against every grain of integrity in my body, approached the sales person on the floor and asked for that four letter word.......h-e-l-p.
Of course, she was this young perky little thing.....a size 2, if that. I took a deep breath and held my head up high while I asked if she could help me choose what might work best for me in the jean department.
She bounced on over to me (did I mention she was perky?....in all areas?).....and asked what style I was looking for. I politely reminded her that was why I needed her help....I am a Gap jeans virgin and have no clue.
I felt the need to remind her that I was over 40 and these hips have birthed four children. But I also asked her to be kind when she when she suggested a size.....and that I would forgive her if she overshot the actual size number.
We narrowed it down to a low rise, wider leg style,
The Essential
jeans.....Ms. Perky was kind enough to use the term flattering as opposed to "these will camouflage your thicker thighs".
So I went into the dressing room.......fully expecting to be disappointed. I did, however, notice that a woman definitely was the one who designed the dressing room as there was very soft lighting. Lord knows that most dept. stores have men calling the shots with their choice of fluorescent lights that will send most woman out in tears. Well at least I have. Those suckers show every vein, dimple, roll.....*shudder*.
This dressing room was very pleasant....and soothing. Almost like a sedative before the dreaded deed of trying on clothes. I walked in with the two pairs and went for it.
To my surprise.....they went on nice....I didn't have to suck in my belly or wriggle them up like a wetsuit. The only word I can use to describe it was.....they "glided" on. Doesn't that sound so nice?
I looked in the mirror and couldn't believe how nice they fit.....I ventured out to those three way mirror dealios and positioned myself to get a "rear-view" shot. I was even more excited when I didn't see something that resembled a sausage casing.
I think I even giggled out loud in excitement. So *this* is what those women I envy when I see them strutting around in those perfect fitting jeans feel like ALL THE TIME? I have been missing out on this euphoric feeling all these years? I am pretty sure I bounced......yes, that happy little perky bounce that Little Miss Size 2 does....to the dressing booth and tried on the other
slice of heaven
....pair of jeans, which although was a different style....fit every crook and nanny of my body perfectly. At least I think so....even if it *was* the magical lighting.....I was taking it all in and riding this wave.
I was tempted to be like my daughter and ask the cashier if I could wear them out....but I decided that it wasn't a great idea. After all....my debut in these jeans had to be so much more spectacular than pairing them with the Native American style blanket/wool hoodie I was sporting.
The cashier asked if found everything OK....and I almost jumped over the counter to give her a hug, but I refrained and just gave her a big smile with a nod. And then she told me that this sale gave you $25 off any purchase over $75......so that was like a cherry on top. :)
I am a new woman. I have new jeans that make me feel good inside.....and make me smile. :)
So, I will wrap up this testimony of how a good fitting pair of jeans can change your life and encourage you to do the same, if you haven't already. If you have, please leave your favorite brand in my comments as I feel an addiction coming on.
.....I leave you with a quick snapshot of my glorious new jeans..... (excuse N's messy room). The photo doesn't do them much justice. I should have shot a video, because I am sure you would see a little bounce in my step. ;)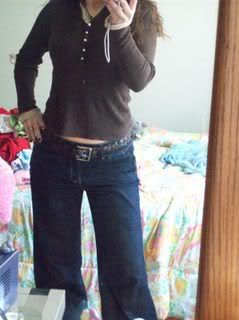 Talk soon~
*~Michelle~*